Overview
Climate change, carbon footprint, net zero emissions. These are phrases we're seeing more and more every day and it comes as no surprise that many of us are becoming more conscious of our impact on the environment. Sustainable living needs to become a way of life, and for us to fully embrace this movement, energy usage must be at the forefront of what we consider. Naturally, heating and hot water are a large part of our energy consumption, so more and more people are considering pellet fuelled boilers to heat their homes and hot water.
Pellet Boilers
Pellet boilers are a type of biomass boiler, using 100% renewable fuel (wood pellets) to provide central heating and hot water for single family homes, and in larger residential, commercial, or institutional applications.
Pellet boilers are an ideal way to reduce emissions as they are net carbon neutral. The amount of carbon dioxide emitted during the burning process is equivalent to the amount absorbed during the growth of the trees via photosynthesis. They are also a direct replacement for fossil fuelled appliances, such as gas, coal or diesel.
Pellet boiler systems run most efficiently at full load and can usually be regulated down to 30% of their maximum output. Since the warmup phase of pellet boilers usually takes longer than for diesel and gas systems, a long clean burn is most effective to ensure good fuel efficiency and longer intervals between cleanings. In order to maximise the burn time and provide consistent heating, pellet boilers are usually combined with insulated buffer tanks.
Wood Pellets
They are produced from wood waste and forest-thinning by-products. According to research and wood pellet boiler reviews, wood pellet heating will remain indefinitely as a renewable energy source. Wood pellets are also typically produced locally supporting local businesses.
ATTACK Pellet Boiler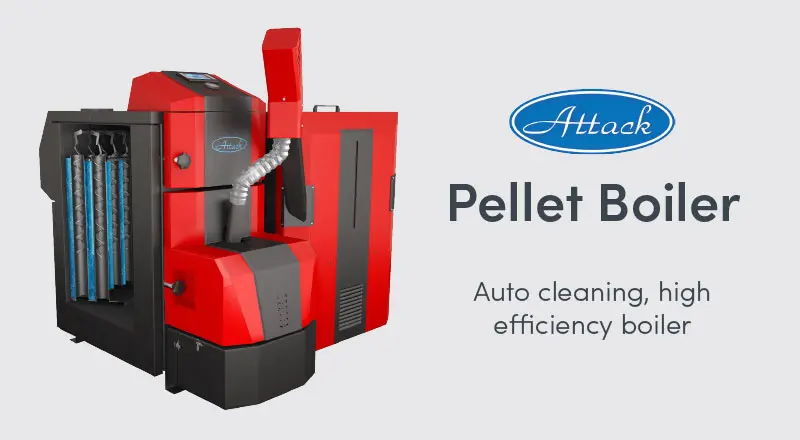 The ATTACK pellet boiler burns pellets with diameter of 6 – 8 mm and max. length of 35 mm. The construction of the boiler consists of a partitioned combustion chamber, heat exchanger and flue connection. The boiler body is welded from 3-6mm steel plates (ensuring a long life expectancy) and insulated with mineral wool. It has a tubular exchanger which is equipped with turbulators to ensure better transfer of heat into the system water. These turbulators also aid in exchanger cleaning to provide optimum efficiency. Parameters can be changed by the installer with the easy-to-use LCD control panel. The boiler responds quickly to the settings and electronically regulates an optimal burning condition in the heating chamber. The unique design of the burner, combustion chamber and exchanger configuration ensures optimal burning of all combustible contents fed into the system. The Attack pellet boiler is equipped with a device for automatic ash removal from the bottom of the combustion chamber into the external box. The ash removal times can be easily programmed as required from the control panel.
The ATTACK pellet boiler comes with an automatic fuel supply unit and large pellet storage tank to avoid constant refilling.
Key Benefits
Comfort of a Pellet Boiler
Automatic operation of the boiler controlled by a room thermostat for high comfort of operation. It offers night attenuation, control of the backup boiler, auto diagnostic and control of 4 mixing circuits. The boiler also has the ability to control a hot water cylinder with automatic, regular disinfection (removal of the bacterial legionella flora).
Fully automatic combustion process
Automatic fuel supply
The pellet boiler recognises the fuel supply, and determines the appropriate power output and air supply. The pellets are filled via a screw feeder (1.5 – 2.5 m) directly into the combustion chamber, where they are burned with a high efficiency of 91%. The whole process of combustion is precisely controlled: supply of pellets, electric ignition, start of combustion, combustion, shutdown. The fully automatic stainless steel Pellet burner with an output of 8 – 30 kW will take care of all this. Just set the required parameters for heating and domestic hot water and the burner does the rest.
Automatic boiler cleaning
The pellet boiler saves time even when cleaning. The automatic cleaning system is equipped with turbulators which ensure the cleanliness of the tube heat exchanger. The Pellet burner also has automatic cleaning every time it burns out or on a certain cycle. The ash remains are automatically removed to the container which can be easily emptied, and the boiler can continue to operate.
SMART Boiler control
The ATTACK pellet combustion boiler is controlled by a clear, easy to use 4.5" colour touch screen on the upper covering plate of the boiler.
Control Features
Touch control and change of parameters:
Summer / winter mode
Cleaning timer
Operational information
Temperature setting
Circuits control
Mixing circuits settings
Wide range of additional settings
Pellet boiler and reliable material quality
The ATTACK pellet boiler has won many international awards.
ATTACK have used their many years of experience, along with modern technology and the highest quality materials to product a boiler of superior quality that offers a long service life.
Ecological combustion with a minimum of ash
The Attack pellet boiler has a minimal impact on the environment as it uses pellets as a renewable fuel source. Pellets offer a high calorific value and are an environmentally friendly fuel. Their combustion produces only a minimum amount of ash – approximately 1% of the fuel consumed. Another advantage of pellets is that they are extremely dense and have a very low water content.
Accessories of boiler
The pellet boiler also includes a 500 litre pellet tank. This large tank ensures burning of the boiler for a longer period of time without refilling.
Sustainable Manufacturing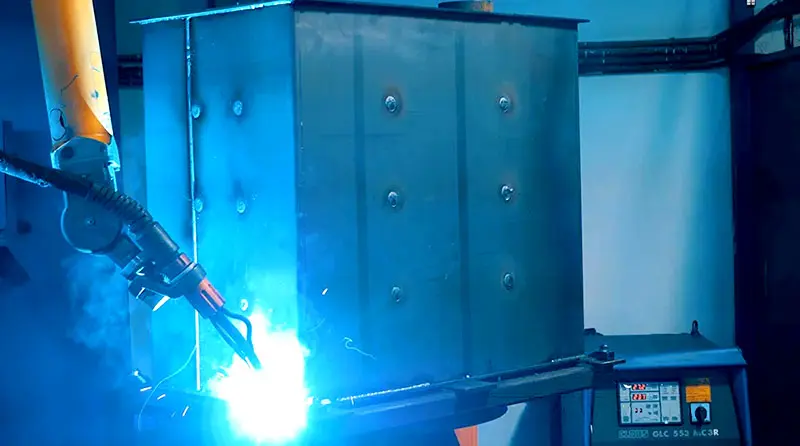 ATTACK is one of Europe's leading specialist manufacturers of solid fuel and biomass-fired boilers based in Slovakia. Since its founding back in 1995, the company has put together a modern manufacturing facility using state of the art technologies such as robotized welding, laser cutting, metal sheet bending and powder coating workstations.
ATTACK strive for excellence in not only producing sustainable products but also a sustainable manufacturing process. The company has installed a photovoltaic power plant onto its production facility. This 200kWp solar array provides enough electricity to power the entire factory while manufacturing their boilers. ATTACK are proud to be able to use one renewable energy source to bring a product into market which uses another renewable energy source in the form of wood or wood pellets. The above technology solution not only puts the company ahead of many of its competitors but clearly underlines its approach towards sustainability.
Product Options