Variotherm celebrated 40 years of operation in 2019. This innovative family-owned company has developed revolutionary products and systems over this time that have led to their success. Like Central Heating New Zealand, Variotherm is passionate about exposing people to real comfort and this aligned value has led to us having a strong relationship with Variotherm since 2012.
About Variotherm
Variotherm is obsessed with finding ways to improve the comfort of inhabitants in buildings. Humans prefer low levels of thermal radiation difference, where the body temperature and the temperature of the surrounding surfaces are similar and feel comfortable when the rate of heat loss from the body is normal, i.e. not accelerated (feels cold), and not retarded (feels hot). The temperature of the surfaces in the room are just as important as the rooms air temperature and both of these aspects need to be considered to achieve ideal comfort:
Variotherm has come up with solutions that use large heated or cooled surfaces where the surface temperatures are lower in heating and higher in cooling. This maximises efficiency and the philosophy has resulted in the development of floor, wall, and ceiling heating and cooling solutions. The systems Variotherm has developed are complete systems that are well documented with design and installation manuals ensuring all aspects are covered resulting in an easy-to-install solution for any surface.
The increased levels of comfort that these large radiant-type systems provide also result in reduced running costs, as the spaces can be cooler in winter and warmer in summer than other solutions but with greater comfort. Savings of around 6% in operating costs for every 1°C cooler in heating and 1°C warmer in cooling can be achieved.
This paired with the fact that these systems can run with much lower flow temperatures in heating and higher temperatures in cooling and can use more efficient distribution systems, adds up to achieving a combined total energy reduction of up to 30% when compared to conventional heating and cooling systems.
Variotherm's VarioComp Floor System
The Variotherm VarioComp floor system has been used in New Zealand for many years now and we have received excellent feedback from the market on the effectiveness and efficiency of this system. The floor system (similar to the Variotherm wall & ceiling systems) uses a 18mm Fibre Gypsum panel as the distribution medium resulting in a very fast reaction time allowing the system to be turned up and down or on and off as required to suit the comfort levels required in the space.
The feedback received from installers and end users is that this system is very comfortable to live with and is very cost effective to run when compared to the conventional in-slab or screed type systems. The ability for the system to better match the instantaneous energy demands of the building due to its low thermal mass and short reaction times is key to the VarioComp systems success.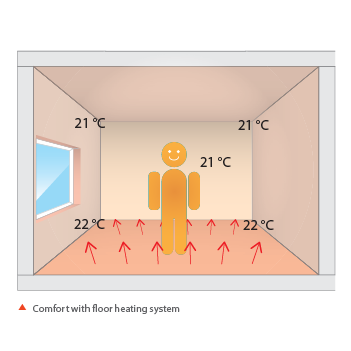 The super-slim, light-weight VarioComp floor panel system with a total construction height of 20-30mm and system weight of only 25kg/m² has been an appealing feature for retrofit applications. The system has also been popular for timber structured new build projects as its light weight design makes it suitable to use without requiring a re-engineered concrete floor.
Variotherm's Surface Heating Systems
Variotherm's other radiant surface heating and cooling products, the Modular Wall and Modular Ceiling systems have not yet been widely utilised in New Zealand, however with a growing understanding of the effectiveness and efficiencies of radiant heating and cooling systems we have seen a large increase in the interest level for these types of systems:
The Module Wall system is supplied in sheets of gypsum fibreboard panels and the pipes are pre-fitted to these panels. The panels just need to be screwed to the wall and pipe work connected back to a manifold:
The Module Ceiling system is available in a number of variations, the panels are the same gypsum fibreboard panels as the Module Wall system however have the option of being provided in standard sheets for a flat plastered ceiling or in smaller sizes suitable for installation in a grid type ceiling:
Both options are available in Acoustic versions with a pattern of pre-drilled holes of various size options and a backing fleece to reduce sound levels in the space below:
With Variotherm's wide product range, large portfolio of experience, and excellent technical support, we are able to offer the construction industry in New Zealand another highly supported and proven system. Whatever the requirements of your project, we will be able to work with you to assist with the development and implementation of a system that achieves optimal levels of comfort, reliability, and efficiency for your clients.
Variotherm Seminars
We were delighted that Variotherm managing director Alexander Watzek (a specialist in research and development) was our guest speaker at seminars held around New Zealand in February 2020, with the focus on the pursuit of indoor climate perfection through hydronic heating and cooling.
If you're interested in further information on Variotherm's products and their applications, watch the recorded seminar here.