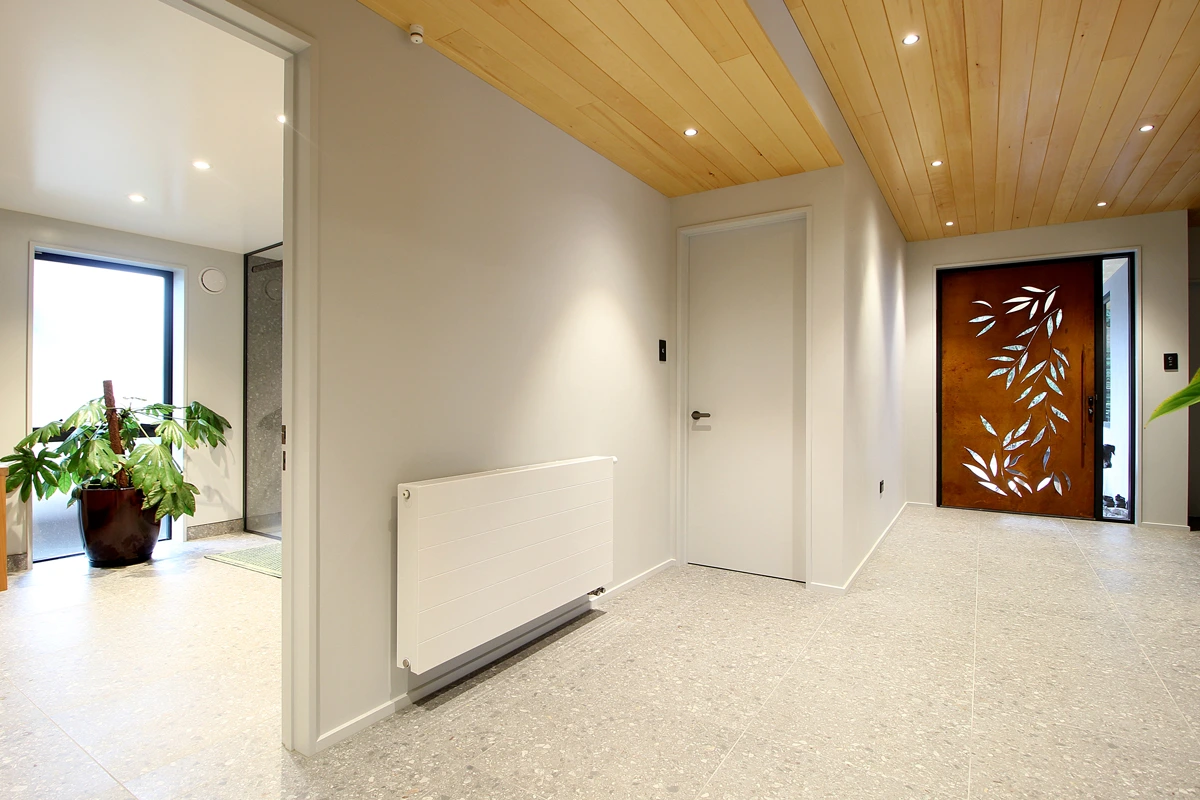 Situation
In 2011, Christchurch was changed after a devastating 6.3 earthquake - land, homes, buildings, roads, and communities were damaged in particular suburbs such as New Brighton and Sumner. Sumner is situated in a coastal valley with volcanic hill ridges overlooking the picturesque Sumner beach. With post-earthquake damage and 10 years of living in their home with damage and cracks in the wall and windows - the cold, and damp crept through making the home miserable and unhealthy. When it came to renovating and rebuilding, the owner's need to create a healthy home was dependent on an effective heating system. Using their existing home, the owners set out to rearrange and repurposed the existing floor plan and create their dream home which suits their lifestyle.
Approach
When it comes to renovations typically Central Heating New Zealand recommends the installation of radiators or in more extensive renovations Variocomp underfloor heating is an option. But as this home needed intensive renovations and the homeowner needing a system that provided heating for their whole-home at an affordable cost, we provided the unique solution of in-slab underfloor in a small living space of this renovated home and radiators in the rest of the home. Typically, central heating is installed as one system for the whole home, but a dual central heating system was a better fit for the homeowner's requirements. Working closely with the homeowner, our engineering team proposed the solution of two separate systems within the one home, which could be controlled separately in each of the living spaces. Several of the downstairs rooms were to be rearranged and new concrete was going to be laid which provided an excellent opportunity to install the in-slab underfloor heating. Radiators were the appropriate choice for the rest of the home as they are the best value for money and are easier to retrofit into existing homes. Even though the two systems work slightly differently and each has its own benefits, they both provide a comforting whole-home radiant heat.
Outcome
Central Heating New Zealand supplied and installed a customised dual heating system to meet the homowner's requirements for their renovated home. The main part of their "new" home now has 10 smooth linear lined Korado radiators and x2 Agata heated towel rails which are heated efficiently by our reliable 16kW Chofu Air-to-Water Heat pump. These stylish radiators pack the punch and provide reactive heating – they quickly heat up and cool down which is ideal with the ever-changing New Zealand weather. With home and style in mind, the homeowners opted to have their radiators painted to match the wall colour in their rooms.
In the second, smaller (60sqm) living space which was once a garage, the floor got raised by 100mm, PE-RT pipe was attached to the structural mesh and then covered with concrete to form the slab. This in-slab underfloor heating in the repurposed extension is heated by a 6kW Chofu Air-to-Water heat pump. Our 6kW heat pumps are commonly used for heating smaller granny flats and were therefore ideally suited for this extension.
With a swipe of their finger, the homeowners have control of their whole home. Both systems are controlled with CHNZ's Smart one thermostat which has been purpose-built for our central heating systems. The Smart One is an app-controlled thermostat that is easy to use and comes packed with features to suit the homeowner's lifestyle.
After years of waiting and living in extremely unhealthy conditions, the homeowners now get to enjoy the comfort of their newly renovated home. "Sitting back, gazing at beautiful beach views in radiant comfort is a feeling like no other".
Additional Info
"Thanks to the team at CHNZ for designing a system that makes living in our CHCH home a real pleasure. No longer cold rooms and dampness creeping in, the whole house is at a stable temperature and dry throughout. We appreciated the time taken by all the staff we consulted from the showroom staff, engineers who explained the ins and outs, salespeople, and installers. Everyone went out of their way to provide wonderful service."
Aluminé Andrew
Other projects
Radiator options when traditional and modern collide

Vertical Multicolonna radiators add a touch of class to Auckland renovation

Unobtrusive central heating

After living in the existing 1940s bungalow, Tim Dagg, director at Sheppard & Rout Architects decided it was time to demolish the existing home...