We recently moved into our new self-managed build in Lincoln. Who knew the enormity of the volume of decisions to be made? But when it came to heating our choices were quickly narrowed down to hydronic heating, either underfloor or radiators. I love the visual aspects of radiators, and there is a vast range from modern slimline options to traditional highly decorative designs. We decided on the underfloor which compliments the contemporary clean lines of our home.
What surprised me about underfloor
I had a preconceived notion that the house would take a long time to heat up, given that you are heating a concrete slab. Surprisingly, I found this not to be the case. I could come home in the evening to a cool house, put the heating on, and wake up the following morning feeling toastie as. On some occasions, I left the house to run a few errands and returned just a couple of hours later to a noticeable difference.
Cooling
A small modification has changed our heating system into a cooling one. Just as enjoyable as it is to stand on a warm floor when you are cold, standing on a cool floor when you are hot is a welcome relief. Cooling has the opposite effect to what you normally associate thermal mass with. Instead of stored heat being released and heating your home further, the cooled thermal mass counteracts the build-up of heat and has a moderating effect. Underfloor cooling is currently in its infancy, so watch this space!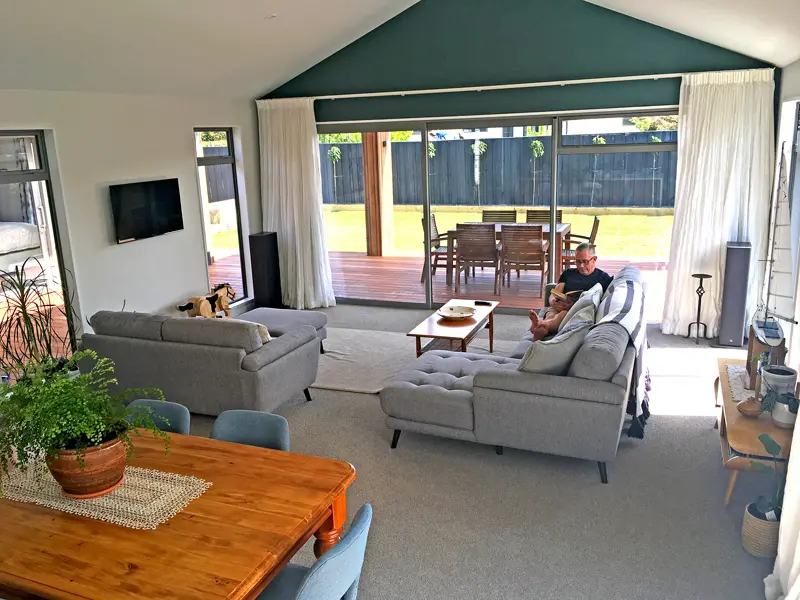 What one mistake did we made?
There's a couple of important considerations to make with the underfloor. You want to minimise your heat loss and maximise the transference of heat. One aspect of the architecture of our home is the high number of windows, not a very complimentary feature for the underfloor. But windows are one component of our home that gives it that 'wow' factor, so that's just not something we could compromise on. Many European homes, where central heating is more mainstream, predominately have hard floors. In New Zealand, possibly due to our historical association with the sheep industry, we opted for carpet as our flooring preference. Although modern carpets are more likely to be solution-dyed nylon (SDN), rather than wool. Polished concrete has become very popular with the trendy industrial look and it is a superior option for underfloor. But we're not easily swayed by fads, so choose SDN for our living areas, with tiles in the kitchen, bathrooms, and entranceway. With a little more foresight, and maybe in the next house, we would extend the tiles to include the dining area so that we could maximise the heating/cooling benefits.
What I love most
I've always been pretty old school, loved the ambiance of a fire, and didn't mind chopping the kindling. But our heating and cooling are now controlled by the touch of a finger. It feels like we live in luxury, but shouldn't everyone enjoy having a warm, healthy home?