Hydronic central heating stands out as the optimal heating solution for all types of homes. The two main options for central heating are underfloor heating and radiator heating or in some circumstances, a combination of the two systems can be suitable. While both of these options share the inherent advantages of central heating, they also come with their own unique considerations. Our goal is to equip you with the necessary knowledge about the system differences and design considerations and installation process which in turn will help you to recommend the most suitable option to your clients.
Radiator Central Heating
Radiators provide a responsive and flexible heating option for both new and existing homes. They heat up and cool down quickly due to their low water content, so are well suited to New Zealand's changeable weather conditions and the typical busy lifestyle of New Zealanders. The convenience and comfort of pre-programmed automation or remote operation.
Important Considerations for Radiator Installations
Available wall space to hang the radiators. Some living areas often require more than one radiator.
Where possible radiators are best positioned underneath the window so that the cold is stopped at its source.
Radiators are sized for the space and the heat source.
Depending on the installation, pipework may be through the ceiling, midfloor cavity, or if the home is on piles underneath the home. They then branch up, down, or out the wall linings.
Pipe sizes vary from 32mm, 25mm, and 20mm but reduce to 16mm to connect to the radiator.
Radiator Pipe Installation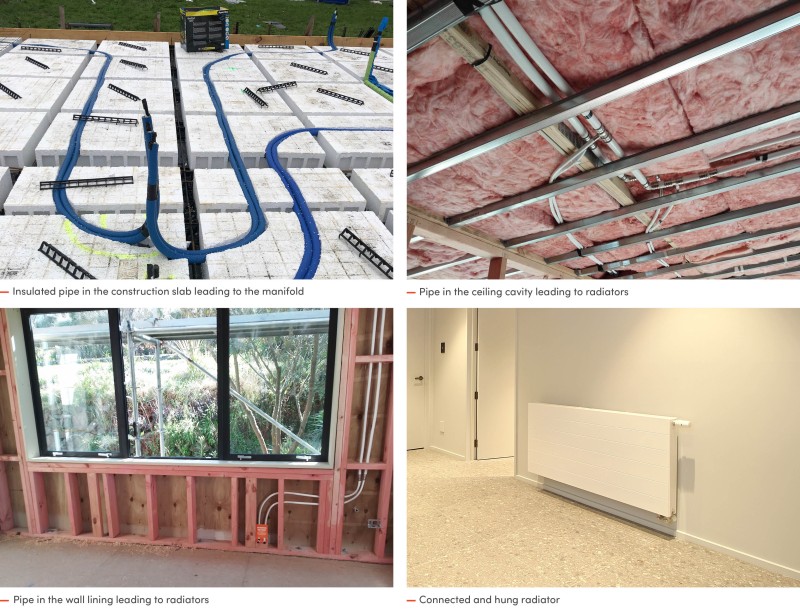 Inslab Underfloor Central Heating
Underfloor heating system's radiant heat is evenly distributed throughout the home, and it warms from the floor up, which is the ideal heat distribution for the human body (warmest at the feet, coolest near the head). Hard floor surfaces are warm to the touch, there is no air blowing making it totally silent. The system is hidden from view and therefore takes up no wall space. This makes it ideal for large open-plan homes or those with a lot of glazing. We can also reverse-cycle the heat pump and run chilled water through the slab to cool the floor down.
Important Considerations for Underfloor Installations
When underfloor heating is included in the construction of a building, the current H1 building code regulation requires a construction insulation value of between R2.5-R3 (dependent on climate zone).
Primary pipes (feed pipes) are installed before the mesh is laid, these pipes are under the slab or through the poly to connect the heat source to the manifold.
All underfloor pipes flow and return to a manifold, when possible this is centrally located.
16mm Multitubo pipe is tied to the reinforcing mesh, ideally 35mm of concrete cover on top of the pipes.
Laid pipes will dip down to accommodate control joints and saw cuts.
All spaces have a dedicated flow and return pipe. This can be adjusted at the manifold.
Hydronic cooling relief is available when using an air-to-water heat pump this is dependent on the design and climate zone.
Underfloor Heating Pipe Installation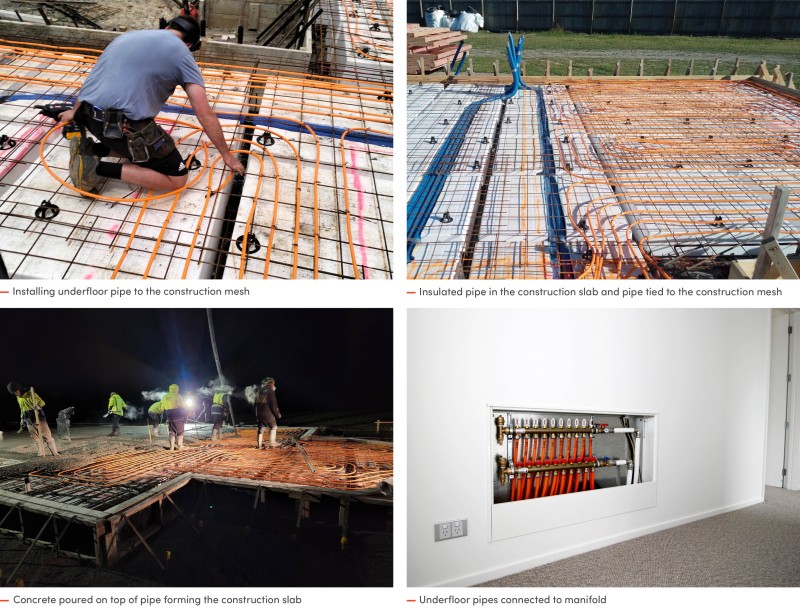 Combination Central Heating System
You can also have a combination of emitters (underfloor or radiators) for your central heating systems when you have a multiple-story house, a mixture of concrete and other construction across a floor or out of choice that you would prefer underfloor to some parts of your house and radiators to others. The above individual system considerations both apply to the combination system and an added consideration is the capital cost. These systems involve technical complexity, and additional products leading to higher costs compared to a single system.
Combination System Design Example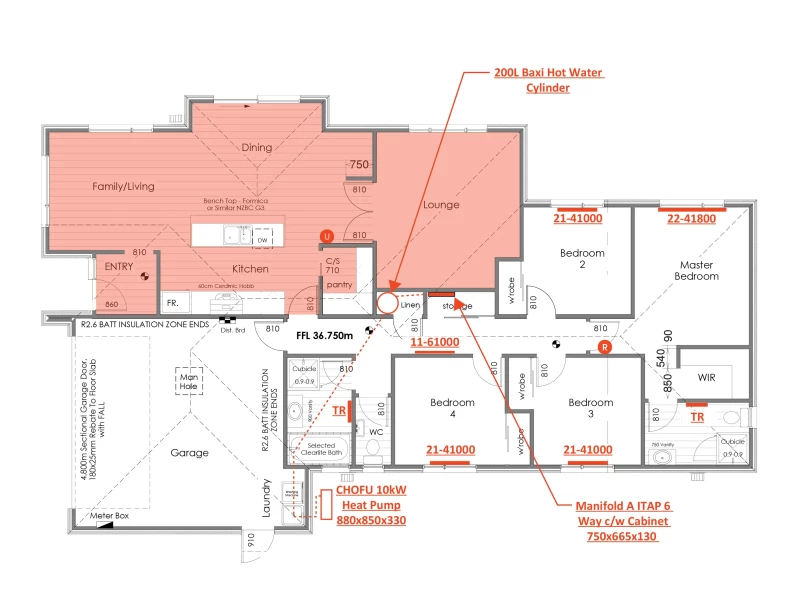 If you have inquiries about these various choices, don't hesitate to contact our knowledgeable team. They are ready to assist you with any questions you may have.