Central heating is a method of whole-home heating in which warm water circulates through a closed network of pipes, carrying heat around the home. These pipes can lead to radiators or they can be laid in the floor for underfloor heating. It is not uncommon to have a combination both radiators and underfloor heating.
Over many years, central heating has developed into an efficient, effective and sophisticated heating system that provides optimal levels of comfort for you and your family. It is the most adaptable heating solution that can be tailored to suit your needs and your lifestyle.
Central heating systems have four major components:
2. Distribution

Insulated pipes that distribute warm water to the emitters.

4. Control

A central control point that can be programmable . Wifi options are available.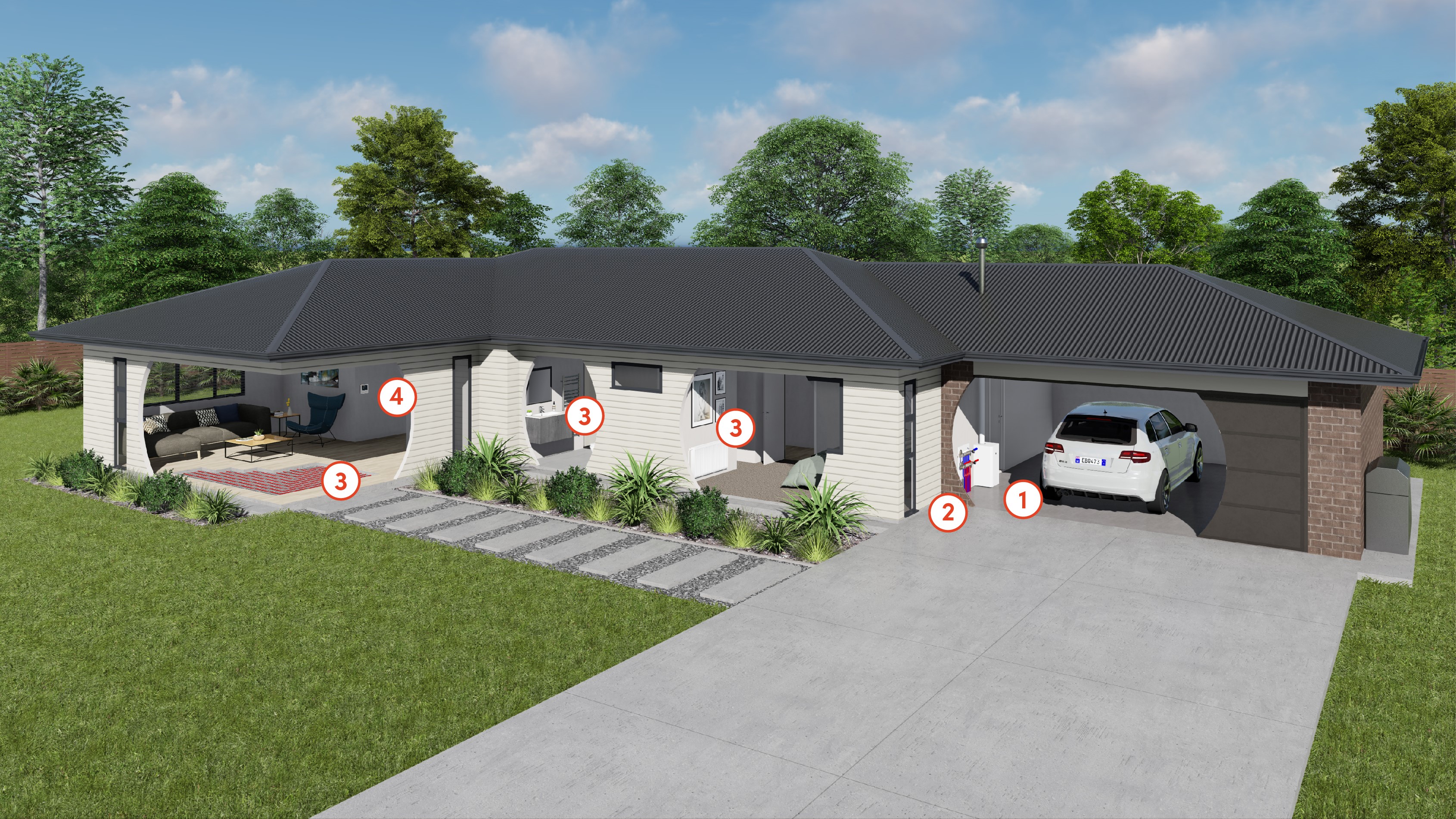 The heat source is the main component of a central heating system. Central Heating New Zealand offers a variety of options which can be split into two distinct types: Boilers and air-to-water heat pumps.
Boilers burn a fuel to create the high temperature water for circulation through the heating system. Diesel boilers are more common in the South Island while gas boilers are popular in the North Island where reticulated gas is available. Some homeowners also like the hands-on approach of biomass boilers.
Air-to-water heat pumps are electric appliances that heat the water that circulates through a central heating system. The air-to-water heat pump converts large amounts of low temperature heat in the air to small amounts of high temperature heat. Ground source heat pumps work in a similar way using geothermal energy to improve operational efficiency and reduce cost. You do not have to live in a geothermal area like Rotorua to benefit from a ground source heat pump system.
Like your vehicle, your heat source needs to be serviced annually to maintain optimal performance and efficiency. Central Heating New Zealand services systems in the greater Christchurch region. Should you request a service elsewhere in the country, we will happily direct you to a local installer.
All underfloor heating systems use a manifold.  The manifold provides flow and return circulation of warm water at the correct temperature and flow rate to ensure an even, comfortable floor temperature throughout your home. 
The manifold is best positioned centrally within your home. This keeps underfloor pipe circuit lengths to a minimum, helping to balance the system and control the temperatures within the rooms.
The manifold, which is contained in its own cabinet, is ideally situated within an airing cupboard, utility or cloak room. They should be accessible for maintenance and servicing.
Underfloor heating

Underfloor heating offers an effective, efficient heating medium that's out of sight and makes no demands on wall space. Make cold and damp spots a thing of the past with underfloor heating, the most luxurious form of whole-home heating.

Radiators

Radiators provide a responsive and flexible heating option for both new and existing homes. They heat up and cool down quickly, so are ideally suited to New Zealand's changeable weather conditions and the typically busy lifestyles of New Zealanders.

Towel Rails

Central Heating New Zealand provides a range of designer towel rails that perfectly balance style and functionality to warm your bathroom and dry your towels at the same time. Towel rails can be part of your central heating system or can stand alone.
Most systems have a wall-mounted thermostat. A thermostat monitors the room temperature and switches the heat source off when it's hot enough, then turns it back on again if the room temperature drops.
Other central heating controls include timers that turn the boiler on or off at set times, programmers that allow you to adjust temperatures for different days of the week and thermostatic radiator valves (TRVs) that let you take control of different radiators.
Another popular option is a smart thermostat. These work remotely via your mobile or computer, so you can adjust the temperature in your home even when you're not there.
There are two ways in which a warm water central heating system can service a domestic hot water supply.
Combination boilers, often referred to as combi boilers, are designed to produce sufficient quantities of hot water to service the central heating system and produce instantaneous hot water for domestic use. In the case of storage combi boilers, the domestic hot water cylinder is incorporated into the boiler unit itself (suitable for homes with up to two bathrooms).
In system boilers, the water pumped around the central heating system can be used to heat the domestic hot water indirectly. It is diverted from the radiators or underfloor pipes and into an internal coil within a hot water cylinder. The coil is heated by the water passing through it, and this heat is in turn transferred to the water stored in the cylinder.
These cylinders are known as indirectly heated mains pressure hot water cylinders. The domestic hot water is never in direct contact with the water used for central heating. In a typical household, the boiler would heat the domestic hot water for an hour in the morning and an hour in the evening. These heating times and the stored water temperature can be adjusted easily to suit any household or lifestyle.