Whether you have an existing home or building new, central heating can be tailored to your project's needs – whilst ensuring every room is comfortably warm, even during the coldest months of winter. Gas boilers are one of many heating sources available for heating the water through a central heating system. Discover why gas boilers are the preferred heat source in the North Island of New Zealand.
What is a heat source?
Central heating is a method of whole-home heating in which warm water circulates through a closed network of pipes, carrying heat around the home. The heat source warms the water circulated through the pipes that lead to radiators or to the pipes laid in the floor for underfloor heating. The heat source can be a gas boiler, diesel boiler, air-to-water heat pump, ground source heat pump, or a biomass boiler; essentially the heat source is the engine of hot water production. Water in the closed-loop system is warmed by passing through the heat source and gets pumped through the pipe network emitting radiant warmth into your home.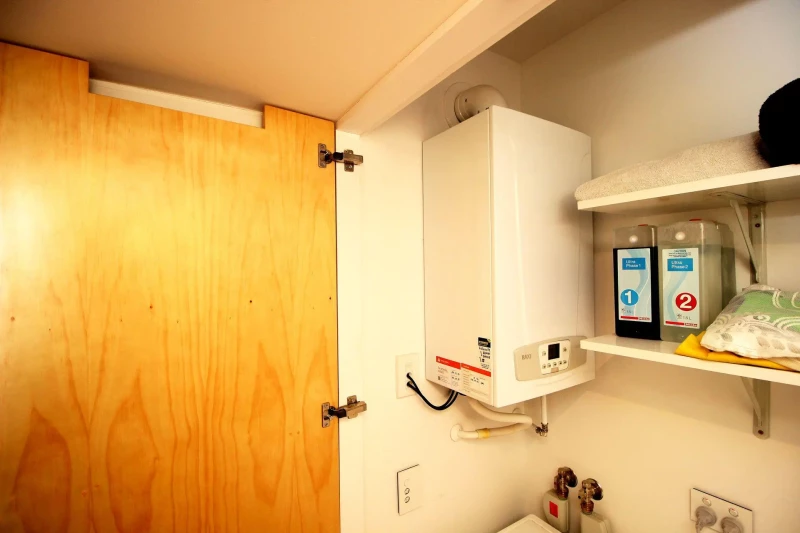 Why Gas Boilers?
Central heating powered by gas is one of the most popular heat sources on the market worldwide due to its high efficiency, small compact sizing (can fit in a cupboard), and inexpensive price tag. Because gas boilers are one of the most common heat sources for central heating in the world, a lot of development has gone into making them sophisticated and efficient. With the added bonus of the North Island's comprehensive reticulated natural gas network, plus low cost per kWh ($0.086kWh* for underfloor or radiators) and low installation costs ($13,000-$18,000*) – the gas boiler is the crowd favourite heat source in the north island.

With ever-changing weather patterns in the North Island, places such as Auckland, Whangarei, Taupo, Palmerston North, Wellington, and many others have commonly opted for gas boilers to run their central heating. "It works wonders in warming up the entire home while drying away any damp that creeps inside."
Gas Boiler Models
Central Heating New Zealand offers a variety of compact, efficient boilers from Baxi and Rinnai – including condensing, standard efficiency, and combi boilers. All residential models are wall hung, out-of-sign but within reach when needed. They are capable of running in extremely cold conditions. All gas boilers are virtually silent.
Product Options
Gas Boiler Technology
Baxi is the UK's best loved brand – offering a variety of condensing, standard efficiency, and combi boilers. There are three main types of gas boilers:

Standard efficiency boilers offer a robust entry-level to central heating.
Condensing boilers achieve high efficiency by condensing water vapour in the flue gas which would otherwise been wasted and are 98% efficient.
Combination boilers heat both your home and your hot water (they only provide the heat you need when you need it).

All gas boilers are virtually silent. Currently Baxi is developing and testing boilers in their research and development workshop that run 100% on hydrogen and look towards zero carbon emissions for a safer and cleaner boiler. For the end user the boiler performance is the same as a current gas appliance but there are no C02 or C0 emissions therefore improving both the environmental performance and safety.

Baxi prides themselves on their market-leading quality and gas boilers come with a 5-year warranty.

The Rinnai Zen combination boiler home comfort system is set to revolutionise the provision of central heating and hot water production with fingertip control giving you great comfort, increased savings and a 'Zen like' state of mind.

The Zen combi boiler is both a highly efficient water heater and central heating boiler in a single highly compact appliance that can be placed inside or outside the home. The water heating part of the system heats water directly from the mains meaning that you don't have to store the water – making it a cost-efficient option. The Zen boiler has 98% efficiency rating and comes with smart controls and Wi-Fi phone app control as standard to help optimise your system, save money and energy.

Rinnai prides themselves on their market-leading quality and gas boilers come with a 5-year warranty.
Annual servicing for gas boilers ensures the retention of efficiency (low running costs) and keeps the system running smoothly
Gas Boiler Benefits:

Can use either natural gas or LPG
Typically installed in attached garages, laundry rooms, or cupboards
Suitable for radiators, underfloor systems, and domestic hot water
Size available for small or large houses alike
Low initial cost and affordable to run where reticulated gas is available
They offer high outputs for a compact size
* All costs include GST. Installation costs are to be used as a guide only and are based on a new home. Costs are at the time of the creation of this blog post. Installation and component issues can affect the approximate capital cost of installation. All running costs take into account the thermal efficiency of the relevant heat source as independently measured by laboratory testing.